George Bell's DOOM/Tyson Web Site!!
These pages were created and are maintained by
George Bell (gibell@uswest.com)
Version May 20th, 1998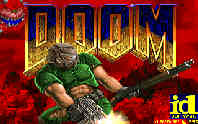 Welcome weary surfer!!
Have you ever dreamed of punching a Cyberdemon to death? Well, most of us are still dreaming, but these "Tyson Collections" are sets of DOOM lmps (recordings) which demonstrate what it's possible to do with a bare minimum of weapons. Also you will find here detailed information on how weapon damage calculations are done in DOOM.

If your browser doesn't support tables, you won't be able to view most of the pages on this site (sorry).
Links to my DOOM repositories:
the DOOM2 Tyson Collection - recordings of every single DOOM2 level (except 30) done "Tyson style".
Last update: 5/20/98.

the DOOM1 Tyson Collection - Tyson recordings of 32 out of 36 Ultimate DOOM levels.
Last update: 5/20/98.

Weapon Damage Information - Did you know the SSG does 3 times the damage of the normal Shotgun?
Last update: 7/15/97. Now that the DOOM source code has been released, this should be updated.

This explains why I hate frames.